Space
The Startup SpaceGold Corporation has started funding through Blockchain
3 July 2020 | Written by Astrospace.it
SpaceGold Corporation is one of the first startups with the central goal of performing space mining of an asteroid. A new round of financing has now been opened through the use of blockchains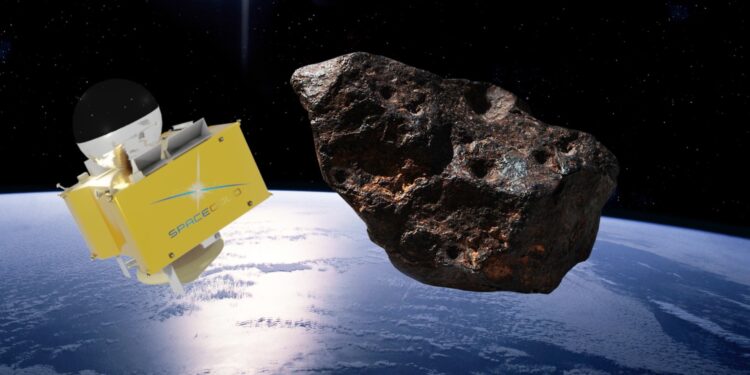 The scarcity and unfair distribution of precious metals will severely test future developments in the technology industry. It is based on scarce resources such as silicon, gold, palladium. In addition, the mining industry produces pollution and sometimes operates in inhuman conditions for local workers. These are just some of the factors that increasingly take into consideration the idea of ​​undermining asteroids.
According to the recent report of the United States Geological Survey (USGS), in which the global mining market is analyzed, the projections of the section on space mining show how already by 2025 a contribution to the world gold market is expected to come from asteroids. The expectation is that space mining represents the beginning of a new and profitable mining cycle. On average, there are 4.7 parts of gold per million in asteroids of the most common type against only 0.004 parts per million of the earth's crust.
A few days ago, one of the first startups to open up to the space mining market started a blockchain financing cycle. SpaceGold Corp was founded in 2018 by William Mook and Hamidreza Jalilian to build, launch, and use satellites to mine gold from asteroids. They have found support in giants such as Boeing, Northrop Grumman, TriVector, as well as from NASA. The technology they patented consists in the possibility to mine resources using a laser called HESL (Hyper Efficient Solar-Pumped Laser) capable of producing 60 kW of energy in a 1 kg machine.
Funding through Blockchain. SpaceGold's goal is to bring the first grams of gold back to the ground as early as 2025. To do this, they imagined a new innovative method of financing themselves. Following the opening of President Trump to space mining, who signed an executive order on April 6, they decided to ride the trend with an Initial Exchange Offering (IEO). In essence, a fundraising event administered by an exchange that guarantees for the project that wants to be financed. In this case, the exchange chosen is P2PB2B.
SpaceGold Corp then created a gold-anchored token that will undermine space. This currency which took the name of SGold is a contract in the form of an ERC20 token, a recognized and implementable standard on the Ethereum blockchain. For the uninitiated, the blockchain is simply a decentralized transaction register, structured like a blockchain. In other words, it is an innovative technology that allows you to maintain the transparency of transactions, maintaining a very high standard of security and trust in the network. This is possible because it is unalterable by definition – nobody can manipulate it to steal the tokens you have.
Read on for more information on Astrospace.it.