Space
New Glenn is now Blue Origin's most important project
29 January 2020 | Written by Astrospace.it
The ambitious launcher of Blue Origin will be fundamental for the future of the company.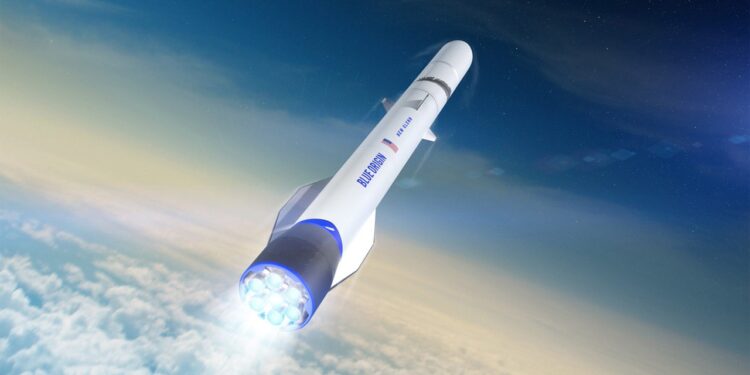 The decade that has just passed will probably be remembered for SpaceX companies in the aerospace sector: for the first reused booster, for the Falcon Heavy but above all for the advent of the many private companies that have followed it in the crazy "race" of the space economy.
Blue Origin was born in 2000, its founder Jeff Bezos intended to create a suborbital vehicle capable of significantly reducing the cost of a launch. To enter the suborbital space tourism market, the same target that Richard Brenson intends to reach with the company: "Virgin Galactic". The first rocket created by Blue Origin: "New Shepard", is in fact a reusable suborbital launcher. Like the Falcon family rockets, it can land vertically after the flight phase.
The idea of ​​creating an orbital launcher came in 2012, although the project was not presented before 2016. With this rocket, called New Glenn, the Bezos company, it intends to enter the "heavy-lift launch vehicle" market , that is, among the launchers that have the theoretical ability to insert 20 to 50 tons of load into low Earth orbit.
Launcher design. In order to reduce the launch cost, the New Glenn will be partially reusable just like the Falcon. The vehicle consists of two stages, of which the first is the reusable component. The first stage will be driven by seven BE-4 engines that use liquid oxygen (LOX) and methane. The second stage will use two liquid hydrogen and oxygen BE-3Us. Landing on a ship formerly known as the "Stena Freighter" is expected to recover the first stage. Originally built in Italy as a cargo ship, today it is undergoing a conversion to adapt it to the recovery of a booster more than 57 meters high.
From a technical point of view, the BE-4 engines represent a milestone. Designed by Blue Origin, they are the first natural gas engines developed entirely by a private individual. In addition to the commitment on the New Glenn, these engines will be used by the "Vulcan" carrier of the United Launch Alliance with which Blue Origin has signed a supply contract.
The New Glenn will therefore be one of the most impressive man-made vectors, second only to the legendary Saturn V of the Apollo era in terms of height, equal to 95 meters. Despite the massive size, the Blue Origin launcher has a thrust (from the first stage at sea level) lower than that of its direct competitor, the Falcon Heavy. For comparison, the heavy Falcon has a thrust of 22.815kn while the New Glenn 16.800kn.
Find out more details about the New Glenn, its operation and the launch pad that will be used for its flights on AstroSpace.it, from which this article is taken.