Space
Fantastic planets and where to find them
4 February 2020 | Written by Alberto Laratro
The world of science fiction, fantasy and video games often imagines extraordinary worlds, outside of our daily lives. But what if we told you that some of these really exist?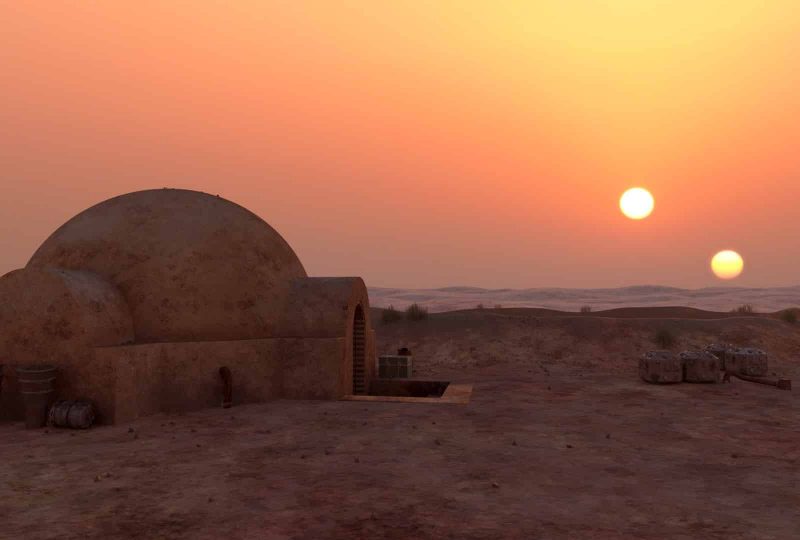 Luke Skywalker, on Tatooine, discovers that his uncles, who have raised him since he was a child, were killed by the Empire. In a moment of great intensity, the Star Wars hero looks at the horizon tinged with red by the sunset of two suns. Yes, two suns, because the planet imagined by George Lucas for the legendary saga orbits a binary system. An extraordinary world, but not impossible. In fact, dozens of exoplanets discovered to date have more than one star.
Tatooine, therefore, is not totally the result of fantasy, but it could be real – stormtroopers, droids and Force aside. Just recently, in fact, a new planet has been added to the list: it is called TOI 1338 b, it is 1300 light years away from us and was identified by a seventeen-year-old intern from NASA.
The planets of science fiction, in all its forms and media, which actually exist are, however, many more, proof that sometimes the fantasy can overcome reality. Let's find out which ones.
The planet of King Kaioh. The saga of the cartoon Dragon Ball is full of extraordinary places and fantastic planets, but the most fascinating remains the very small world of King Kaioh of the North. It is a planet with just a few tens of meters in diameter, inhabited by King Kaioh, one of the characters in the series who will train the protagonist, Goku. The peculiarity of this planet is gravity: despite the size of the planet, this is ten times greater than Earth's.
In reality, meeting such small planets is impossible, or rather, they would not have a suitable density to achieve the so-called hydrostatic balance, the phenomenon that makes a celestial body spherical. However, there is something else that is very close to the planet invented by Akira Toriyama, author of the series. It is a neutron star, a collapsed star. Objects of this type are incredibly compact, in fact, they measure on average only about ten km, and their gravity is immense, in fact, they are stars that have arrived one step away from becoming black holes. If Goku manages to train on their surface, he would truly become the most powerful being in the universe.
The planet of Interstellar. Christopher Nolan's fantastic film tells the epic and desperate search for a new planet for humanity. During the movie several planets are visited but there is one that has captured the attention of the public. It is the planet of Miller, one of the astronauts sent to look for a new home for humanity: a world covered by a boundless ocean and just a few centimeters deep. At least until the tidal wave arrives. Orbiting a black hole, in fact, this ocean is subject to immense tidal forces that raise a wall of water for km on the surface. The planet, by rotating, makes this mountain of water flow over the entire surface, almost overwhelming the protagonists.
Unfortunately, to date we have not discovered other planets, other than Earth, whose surface is covered with water. However, we do have a testimony to the incredible power of the sea forces on Phobos, one of the two small satellites of Mars. Its surface is covered with streaks as if it had stretch marks. The largest moon on Mars (just about ten km in diameter) orbits just 6000 km in height (to compare the Earth's moon orbits at 384,000 km). The tidal forces act not only on the water, as in the Nolan film, but also on the rock, so here is the entire Martian moon is under constant stress, and here are also explained the signs on its surface: they are the prodrome of a future disintegration of Phobos, which will be torn to pieces by Martian gravity.
Two moons for Nirn. After passing through the narrative universes of films and cartoons, it is right to dwell also in the world of video games. In this case, we are talking about the series of The Elder Scrolls. A role-playing game with a fantastic setting, the series, now in its fifth edition, takes place in the world of Nirn, a world inhabited by imaginary beings of all sorts, elves, orcs, dwarves (or rather Dwemer) dragons, undead and so on. For the rest similar to the Earth, Nirn has a particular astronomical characteristic, it has two moons, Secunda and Masser.
To discover a planet with two moons we don't have to go far, in fact we go back to Mars. As mentioned above the red planet has two satellites, Phobos and Deimos. The two moons are very small, just a few tens of km each and orbit very close to the surface. If we want to find a planet whose skies are illuminated, however, by real moons then we must move a little further, just 780 million km, beyond the asteroid belt. It is Jupiter, the gas giant and its 79 (identified so far) natural satellites. Among these, the four Medici, Io, Europa, Ganymede and Callisto certainly stand out, practically as big as a small planet (between 3000 and 5000 km in diameter) are visible from Earth even with binoculars.
There are an infinite number of imaginary worlds, from realistic and plausible planets to strange disc-shaped planets resting on elephants placed on the shell of a giant space turtle, as in Terry Pratchett's book Discworld, we do not know how much and if who invented these worlds we took inspiration from reality, but the certainty remains that in order to imagine alternative – and future – worlds, one must first know the real ones.