City and Transportation
The 3D printed boat breaks three world records simultaneously
15 October 2019 | Written by La redazione
It took only three days to print the 8 meters long and 2 tons weight boat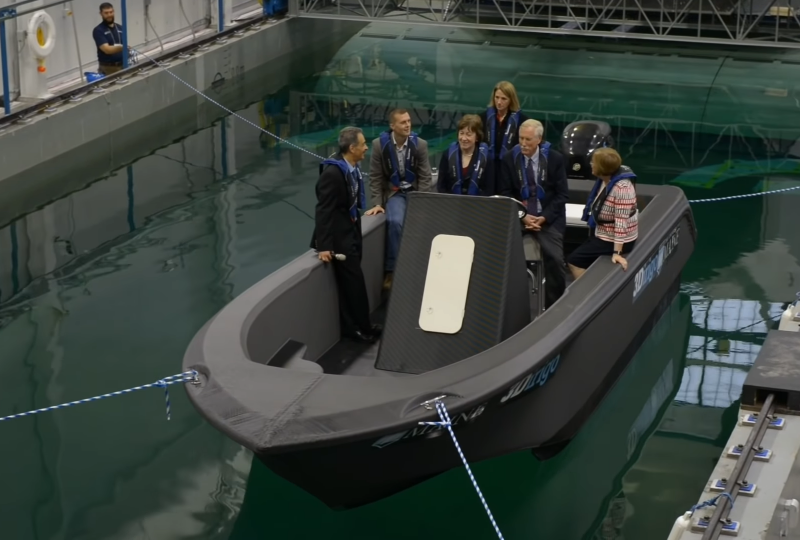 3D printing is a technology that finds more and more applications. While its private use to build small tools, objects or devices is spreading more and more, on the other hand, large companies are finding more and more efficient ways to use this technology to create large objects, including, like in this case, whole boats.
Boats on demand. The University of Maine has succeeded in printing a whole working boat almost 8 meters long and weighing more than 2 tons in 3D. Printed with plastic polymers, the boat is the tangible proof of the commitment of UMaine Advanced Structures and Composites Center, the laboratory that deals with innovative research in the field of composite materials applied in the commercial sector. The boat was presented during an event in which, in addition to the public and several experts in the tech world, there was also a delegation from the Guinness World Record, present there for three reasons.
Three records in one. The work of the University of Maine laboratory broke three world records at once. In fact, to create the boat, which is the largest boat ever printed in 3D, it was used the world's largest polymer 3D printer. Not only that, the boat itself is the holder of a world record, it is, in fact, also the largest object ever obtained through this technology. This last record, however, could have a short life: the machine used, in fact, according to the university spokesmen, would be able to print objects up to 30 meters long and 6 thick, with a height of 3 meters.
Future applications. The printing of the boat was obviously a demonstration of the capabilities of this technology, which has already found interest in the military sphere. In fact, the US military has said it is interested in using it to quickly build temporary shelters for soldiers in the field.
Watch the video: