Community Blog
Meet Impactscool's Ambassadors: Rosalia Ferri
17 October 2019 | Written by La redazione
Continue the journey to discover the Impactscool community. Today we meet Rosalia Ferri, the first woman on our tour among the Ambassadors.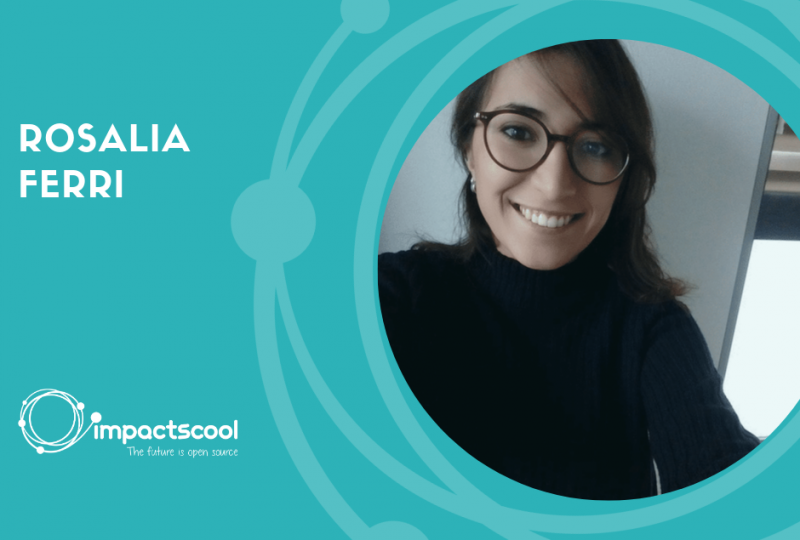 New appointment with the Impactscool community where we get to know our ambassadors. After Luca Tiraboschi and Marco Caspani it is the turn of our first girl, Rosalia Ferri: graduated in law from the University of Bari Aldo Moro, she currently works as Junior Privacy Expert in a company that develops applications and provides IT services for the public administrations.
What does it mean for you to be an Impactscool Ambassador?
Being an Impactscool Ambassador to me means being part of a project that promotes the right to information. Today we live in a historical moment in which technology evolves too quickly compared to our ability to understand it, in which a smartphone is defined as a prosthesis of our body, in which the largest digital platforms know our preferences. I think that if we were all more informed and aware, on the one hand our way of living online would be different, and on the other we would also be able to more easily recognize the opportunities that innovation offers us.
For all these reasons I am proud to be part of a project that approaches any type of audience to the topic, which stimulates curiosity and promotes healthy debate.
The future in three words…
transparent: I imagine a future with greater sharing of authentic information, from and to all of us, as citizens, voters, consumers, readers…
egalitarian: I imagine a future that favors fair access to future opportunities
participated: I imagine a future in which each of us will have a stronger sense of civic duty and will actively participate in the processes of change, for greater common well-being.
What do you do today and what will your work be in the future?
Currently, I am in charge of personal data protection and compliance with Regulation (EU) 2016/679, as Junior privacy expert. My job of the future will be to continue to deal with the protection of human rights in the digital age, so as to combine the interest in the right of new technologies to attention to social issues.
What are the major opportunities that technological development will bring and which, instead, are the risks?
As an optimist in new technologies, I believe that the greatest opportunities that will arise in the long term will be in sectors that concern the common well-being and the community. I am thinking of disease prevention, agriculture monitoring, prevention of natural disasters and also the relationship between state and citizen. The greatest risks could derive from the lack of regulation of new phenomena, from the spread of discriminatory systems, from the spread of disinformation and consequently also from feelings that incite hatred and violence.
How do you imagine 2050?
I imagine that in 2050 many cities will be on a human scale. Using transport with less environmental impact will be the rule, urban space will be removed from cars and returned to citizens. In this way the places of confrontation and dialogue will return to being the squares, and not only the digital platforms.
What will your hobby be like in the future?
My hobby of the future will be my current hobby. I recently discovered the benefits of manual and DIY work. If new technologies help me with routine activities, I will have more free time to devote to my passions!