Our events
Next week's events by Impactscool – 18th to 24th of June
15 June 2018 | Written by La redazione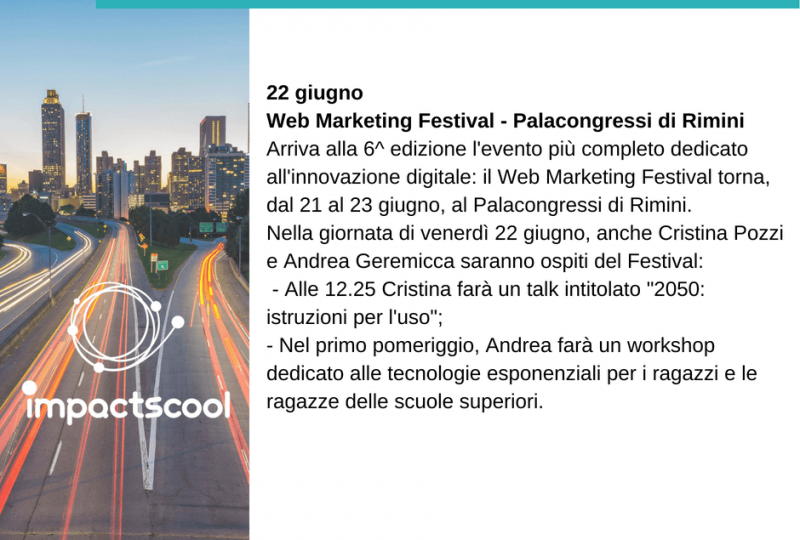 Like it does every week, Impactscool's team will be involved in several events all across Italy and beyond. Find out where you can find us.
The most complete event for digital innovation is back: on 21st, 22nd and 23rd June, the 6th edition of the Web Marketing Festival reaches the Palacongressi di Rimini, where all the protagonists of the digital world will meet. After the success of the last edition, which saw the presence of over 12,000 people, including 200 between sponsors and partners and over 300 startups and investors, the Web Marketing Festival starts with over 50 events, divided into more than 30 training rooms that will host workshops, debates, talks and an exhibition area with the main Italian and international players.
Blockchain and Criptovalute, Content Marketing, Coding & IT, Social Advertising, Big Data and the digital declinations of Food, Fashion, SMEs and HR: these are just some of the topics that will be explored during the three days, thanks also to the contributions of 130 speakers attending the event. Among them there will also be Cristina Pozzi, CEO of Impactscool, who will take the floor during the round table dedicated to Open Innovation, with a talk dedicated to the world of 2050: how will 2050 be? What changes should we expect in our future and what are the technologies that will most impact on our lives?
Andrea Geremicca, Co-Founder of Impactscool, will also be present at the Web Marketing Festival and will propose a workshop dedicated to exponential technologies, designed for high school students.
Providing young people with the tools to deal with emerging technologies such as robotics, artificial intelligence, biotechnology and blockchain has, in fact, always been the mission of Impactscool. And to realize this dream, Impactscool needs the Ambassadors, a group of activists, visionaries, innovation, technology and entrepreneurship enthusiasts, who want to test themselves and discuss the ethical and social changes that we will face in the near future.
We have decided to expand our fleet of innovators: up to July 15th, you can send your application here and become part of the global Impactscool network.