Our events
Next week's events by Impactscool – 10th to 17th of June
8 June 2018 | Written by La redazione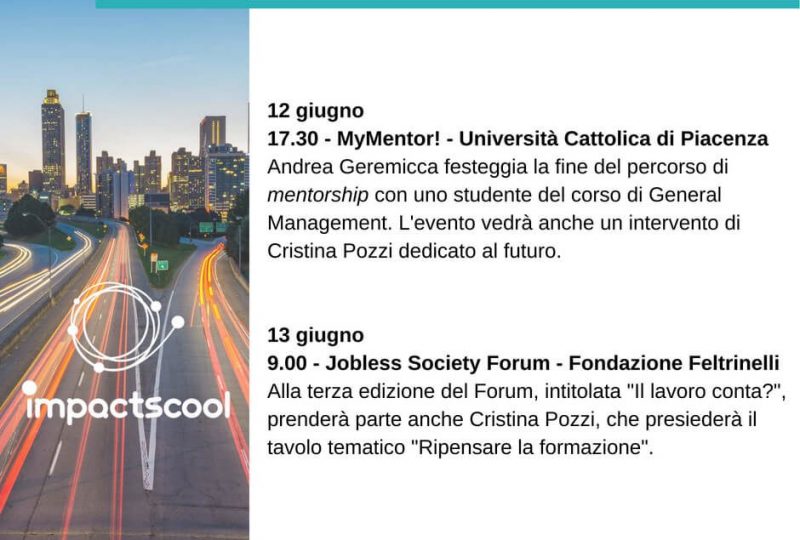 Like it does every week, Impactscool's team will be involved in several events all across Italy and beyond. Find out where you can find us.
MyMentor!, the project that took off in December 2017 at the Università Cattolica of Piacenza and in which participated 41 students of the General Management Course, has arrived at the final stage. A path of personal and professional growth, both for the mentees, the students involved, and for the professionals who have supported them along this path: through advice, practical experiences, sharing of technical skills and much more, the participants were given the opportunity to take a closer look to the world of work. Andrea Geremicca, Co-Founder of Impactscool, has been selected among the mentors of MyMentor! and he had the chance to support one of the students. Created by two professors of the Faculty of Economics, Franca Cantoni and Elena Zuffada, the project is an educational experience "in the field" that, for the last three years, has seen the active participation of the University and several entrepreneurial realities on the territory. The next June 12th will be an opportunity to take stock of the situation of the third edition of the project and see the results. Cristina Pozzi, CEO and Co-Founder of Impactscool will also take part in the event, and she will talk about what to expect from the future.
The opportunities and challenges of the future of the employment will also be at the center of the Jobless Society Forum, the event organized by the Giangiacomo Feltrinelli Foundation and dedicated to the transformations that the working world has to face in our day. The conference, scheduled for June 13th at the Foundation's headquarters, in Viale Pasubio, 5 in Milan, will see a group of scholars, journalists, entrepreneurs, innovation protagonists and policy makers, called to discuss on 9 different thematic tables dedicated to rethinking training, skills for employability, women's employment, youth employment, migrant work, innovative welfare systems, businesses and inclusive growth, irregular and risky work for contractual abuse, gig economy and platform work. Among the names of the board that takes care of the contents of the Forum there is also that of Cristina Pozzi, who will be called to chair the thematic table entitled "Rethinking the training": dedicated to growing inequalities in our educational system, this table will be dedicated to a more in-depth reflection on the models that shape the learning paths and training experiences in our country.