Robotics and AI
FaceApp: age or rejuvenate with a touch thanks to artificial intelligence
17 July 2019 | Written by La redazione
The app, released in 2017 but recently back in fashion thanks to some updates, is the web phenomenon of the moment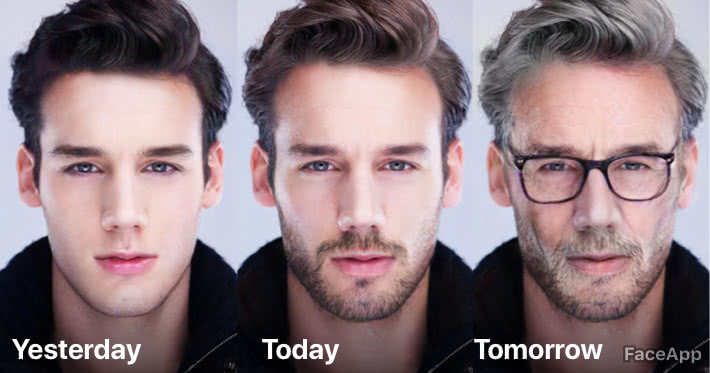 Credits: Faceapp
Influencers, sportsmen, actors and even politicians: all, or almost all, have succumbed to the temptation to try FaceApp, the application that modifies our facial features, showing the older or younger face of a few years. Few people know that in reality, that of the "aged selfies" (or rejuvenated) is not new: the app was developed in 2017 but only recently, thanks to some updates, has improved its performance so as to become a real own fashion, a viral phenomenon widespread with the hashtag #FaceAppChallenge. However, hardly anyone has wondered how it works and what the implications are in terms of privacy.
I was curious for what @elonmusk would look like.. and quite honestly. I'm not mad #faceappchallenge #ElonMusk pic.twitter.com/WuaNcn4bdn

— 👻ᴇʟʟɪᴇ👻 (@EllieXPLR) July 17, 2019
The app, available for free on the main stores, was developed by the Russian company Wireless Lab and, unlike many other applications related to the world of photography, does not use simple filters but is based on an algorithm that analyzes the users' faces and modifies them thanks to an artificial intelligence system. A paid version also allows you to apply tattoos, modify other facial components such as beard and hair colour and even the user's sex.
"We have developed a new technology – explained the founder and CEO, Yaroslav Goncharov to TechCrunch – which uses neural networks to realistically modify the face in the photos. Our main element of differentiation is photorealism. Other apps intentionally change an image in a fun way, but no longer a real photo. "
Thanks to updates the artificial intelligence used by FaceApp has definitely improved, offering more realistic photos.
Doubts about the privacy side and the risk of racism. What happens to all the selfies loaded on the app these days? This is still not clear and already in 2017, the year of the launch of the App, someone had pointed out that the privacy legislation used by the app was decidedly standard and offered no effective protection for user data. Also in 2017, finally, the application was accused of being racist: the "beauty filter", which promised to make our appearance more sensual in the photos, based the idea of ​​beauty on a Caucasian aspect, characterized therefore by a skin white. App producers immediately apologized to users, explaining that this was a side effect of the set of photos used to train the neural network.
Meanwhile, our social message boards are filling up with photos of old people. That Facebook was a social network for "old people" was well known, but this is exaggerating.