Robotics and AI
Using drones to save lives
29 May 2019 | Written by La redazione
The project of the UAV Retina initiative promises to create a management platform for emergency situations, also using artificial intelligence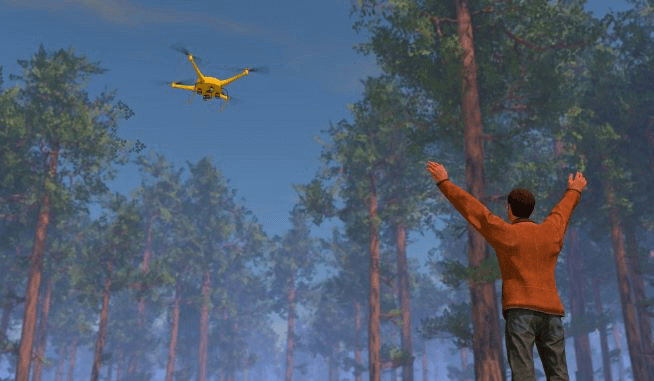 Searching for missing people or monitoring fires are dangerous, time-consuming and resource-consuming activities, for this reason managing them at their best is fundamental for the success of rescue operations. So UAV RETINA is born, a European initiative promoted and financed by EIT Digital in the area of ​​innovation on Digital Cities, which will end at the end of this year with the coordination of the University of Rennes (France) and participation of the Bruno Kessler Foundation of Trento.
"A start-up – explains Fabio Poiesi, researcher of the Vision Technologies Unit of the Bruno Kessler Foundation – to develop an autonomous and flexible platform dedicated to search and rescue operations, in particular to support the Fire Brigade or Civil Protection in operations ranging from finding people to avalanche rescue, and finding improvised explosive devices ".
Smart drones. Drones provide the means to bring various types of sensors to advantageous positions, from simple cameras to thermal sensors to detect survivors or missing. Each operator can control multiple devices simultaneously and each drone optimizes the movements, flying over the area of ​​interest in the shortest possible time and with the lowest consumption of batteries. The researchers are also dealing with the automatic and real-time detection of the presence of people, through thermal images that are transmitted from the drone to the operator during the rescue mission. And it is there that artificial intelligence comes into play, with an algorithm for image processing that will work in a continuous learning mode: artificial intelligence will have a constant improvement in precision and accuracy thanks to the operator's input, a man-machine collaboration.
"Our algorithms – continues Poiesi – highlight elements of interest that could be, in fact, dispersed people and therefore allow to make an analysis of these images more effectively and therefore faster. Let's imagine the fireman with his tablet that receives the video from the drone and interacts with the areas of interest within the map: our algorithm will learn what are the elements of interest to the operator so that the next time will allow a much more accurate and focused analysis ".