Space
Second flight to Starship. It is SN6's turn
4 September 2020 | Written by La redazione
The tests on the Starship are proceeding expeditiously, after only one month from the first "hop" SpaceX successfully replicates the feat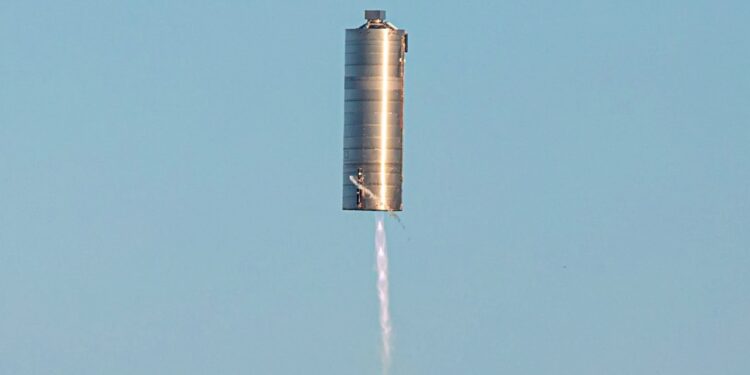 One month after the historic flight of the Starship SN5 prototype, SpaceX repeats itself with another leap of 150 meters. At 19:49 on September 3, the Starship SN6 prototype detached itself from the test pad to make the third flight in the history of this project, reaching an altitude of about 150 meters before touching the ground again.
SN 6 reached the flight pad taking the place of SN 5, after the latter was returned to the hangar area for controls. In the next two weeks, they then performed the pressurization test, and then turned on the Raptor SN29, previously mounted. It should be noted that all these tests, unlike the previous ones, were carried out without a mass simulator on top which was mounted later.
The flight was initially scheduled for the Italian afternoon of August 30, but just under 10 minutes from the possible test, everything was interrupted. Despite the siren that announced the flight had already sounded, due to the strong wind in the area of ​​the launch pad, SpaceX preferred to postpone the flight of SN6.
As with the previous prototype, the SN6 also features a single Raptor engine in its final position. The Starship is designed to have 6 engines, 3 optimized for atmospheric flight and 3 for orbital flight. As a result, mounting a single Raptor engine means having a thrust not aligned with the center of mass, which is why it was kept oblique during flight. Thanks to the motor gimbal and the Reaction Control System (RCS), SN6 was able to overcome the asymmetrical thrust and was able to land optimally.
The landing legs that perfectly supported the weight of SN6 even if at the end of the Hop the Starship tilted slightly to one side. Hard to know now if it was a problem with the legs or the landing pad. A fire also started in that area, which was immediately extinguished by the emergency system.