Special
Impactscool has the exclusive license to use in Italy the videos of the largest scientific community in the world
9 May 2019 | Written by La redazione
Big news for Impactscool: from now, it can disseminate in Italy the contents of the popular science communicator and video producer Hashem Al-Ghaili, which has a community of over 30 million people on Facebook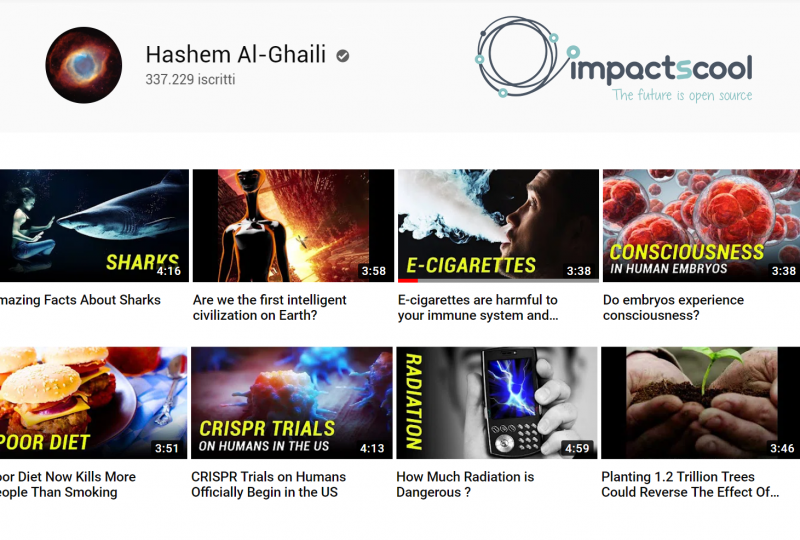 From today, there is a new important tool for the dissemination activities of Impactscool: thanks to a collaboration agreement signed with the scientific communicator and video producer Hashem Al-Ghaili, in fact, Impactscool has the exclusive license to use his videos in Italy. These contents represent a new important tool to bring a heterogeneous and diversified audience closer to science topics and create widespread awareness of the impact of new technologies on society, stimulating reflection and debate on the future.
The contents. The editorial staff of Impactscool Magazine will select and translate into Italian the contents and then will publish it in this Magazine and on the social media channels of Impactscool. These are short clips, lasting less than 5 minutes, which tell news and curiosities about the world of science with a very simple style and a language suitable even for a non-expert audience. In particular, the videos and content chosen by the editors will be about emerging technologies and their impact on society, in perfect "Impactscool style".
Hashem Al-Ghaili is a science communicator born in Yemen. He manages his Facebook page, which has reached over 32 million followers from all over the world. He graduated from Jacobs University Bremen and obtained his master's degree in Molecular Biotechnology. According to Tubular labs, his Facebook page is among the fastest growing pages globally and generates the highest number of monthly views in the science and technology sectors.
"I am very happy for this collaboration – explains Hashem Al-Ghaili -.For us is important to bring our contents in Italian, and we will do with the right partner who shared our same mission and who addresses the issues of the future and innovation with dedication and seriousness. In Impactscool we have found the ideal partner, and I am sure that together we will be able to successfully disseminate our videos also in Italy and to bring people who are distant from these themes closer to science".
The first video chosen and re-proposed by Impactscool is about the danger of E-cigarettes.
Watch it now!