Future Society
Changemakers United: responding to Covid-19 with social innovation
19 May 2020 | Written by La redazione
Wednesday 20 May the online event organized by Ashoka in which the actions taken by some of the main social innovators in Europe will be presented. Among the guests the Nobel Peace Prize winner Kailash Satyarthi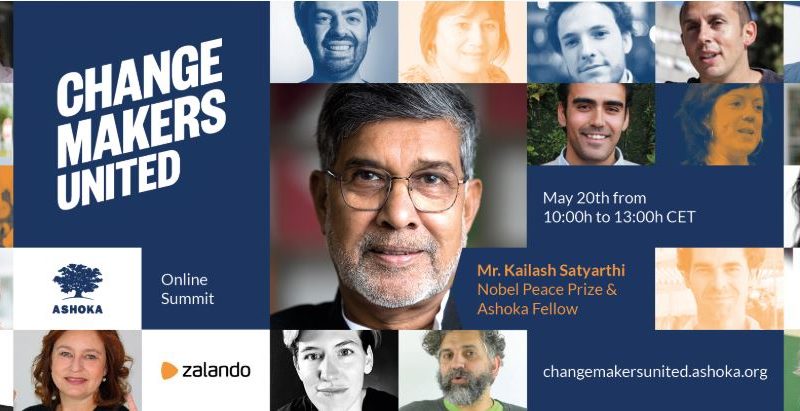 Medical research and technological development, but also social innovation: the global crisis brought by Covid-19 has affected our society at different levels and over 200 of the main social entrepreneurs in Europe have already started to act on the new challenges we face . It will be discussed on Wednesday 20 May during the online summit Changemakers United, organized by Ashoka, in which 20 of the main social innovators in Europe will present the solutions they have developed. Speakers at the event will also include Kailash Satyarthi, Nobel Peace Prize winner in 2014.
To participate in the event you need to register here.
"Two things became clear to us just a few weeks after the official start of the pandemic. – explained Giulia Sergi of the Europe Fellowship Program that organized the CM United event. – Many of our social entrepreneurs in the world, the Ashoka Fellows , were already implementing new initiatives to respond to the emergency, protect the most vulnerable populations and not leave their community alone. On the other hand, we were realizing how many of the global responses to the new situation were solutions that the Ashoka Fellows have been promoting for years in its sector: innovations in the way of teaching, a healthy and attentive use of digital, the attention to social inequalities even more evident in this moment of lock-down, the involvement of local communities, innovations in the health sector. role as an organization has therefore become clear to us: spread, communicate, scale and support the most anthem solutions lives, both in response to the emergency and to co-create together in the reconstruction and rebirth phase that Europe will face. "
The event, scheduled from 10 to 13, will see the alternation of several guests, who will address the issue of social innovation at the time of Covid-19 from different points of view. The opening plenary will be dedicated to meeting and discussing with social entrepreneurs. A parallel round table is scheduled to follow, which will discuss educational, health, social, political and economic challenges. The closing of the morning in plenary will be entrusted to Kailash Satyarthi.
Social entrepreneurs are people who develop and implement innovative and effective approaches to solving urgent social problems. The people chosen for the Changemakers United online summit are tackling Covid-19 problems in several areas: from direct health care to the protection of vulnerable communities, from new education models to the world of media and information, to the effects economic and political.
Find out more about all social entrepreneurs in the Changemakers United initiative here.