Science and Medicine
The anti-fraud laser: the revolutionary breakthrough by Enea against food alterations
22 February 2019 | Written by Giovanna La Vecchia
A laser that could identify if there is something wrong with the products purchased. It is the instrument created by Enea, a new way of defending against food frauds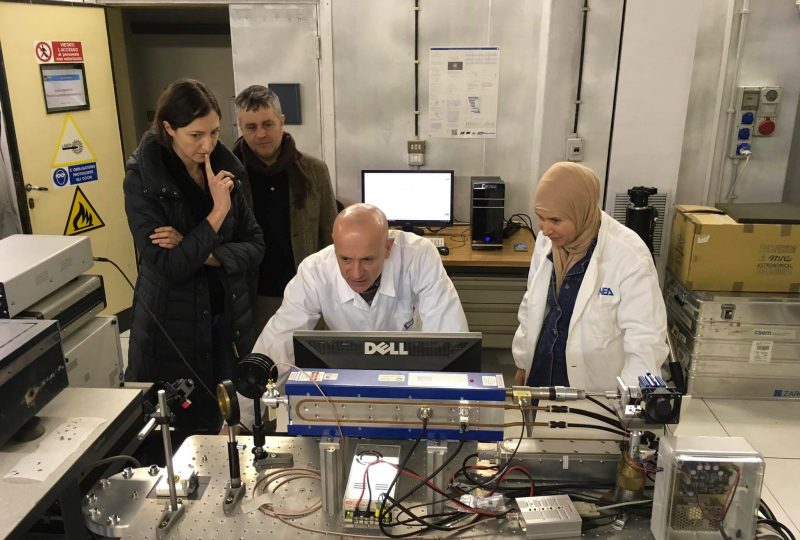 Innovative optical instrumentation, based on an infrared laser technology, which allows to identify food frauds and to guarantee the quality and safety of food that ends up on our tables. In a short time and without resorting to highly specialized personnel, it will be possible to analyze food products and detect frauds and contaminations. Through small and handy equipment, with costs considerably reduced compared to classic analyzes, it will be possible to detect, in a few seconds, the presence of toxic substances in food directly at the place of distribution (markets, supermarkets, school canteens, hospitals and companies, shops). This is the research carried out by the Frascati Center of Enea, the National Agency for New Technologies, Energy and Sustainable Economic Development, together with six industrial partners, set up within the SAL@projectCQO financed with three million euros by the Ministry of Economic Development.
A precious and almost indispensable tool, considering the worrisome and alarming data disseminated by Coldiretti on the basis of about 25 thousand checks in the first eight months of 2018 and made known to the International Agriculture and Food in Cernobbio.
In 2018 news of offences in the agro-food sector have risen by 58%: oil, fruit and vegetables, cereals, preserves, wine, organic sector, showing that one in five Italians in shopping has suffered food fraud with more repercussions or less serious on health. Even 88% of Italians interviewed said they were worried about the possible danger of acquiring and their health at risk.
We talked about it with Luca Fiorani, professor and researcher of Enea.
How is the project born?
The idea came from an Enea researcher, Gianfranco Giubileo, who decided to implement photoacoustic laser spectroscopy, of which he was already an expert, applying it to various fields including food safety. After taking care of health, having applied the photoacoustic laser spectroscopy to the expired human, after having worked on fruit ripening by measuring the emission of ethylene gas, the same technology has been applied in the field of food frauds.
At what point is the project?
The project, born about ten years ago, has come to the realization phase that will allow us to build two pre-industrial prototypes. Currently, the team consists of the researcher Adriana Puiu and me, engaged full-time in the project, two others partially employed and many technicians who are helping us.
Through the prototypes developed, the project intends to provide a rapid, automated and simplified use of screening tools to facilitate the work of the control institutions responsible for the control and repression of food frauds.
What is research based on more specific and technical terms?
Technically, we "shoot" a laser beam in the infrared in a "fingerprint region", in which the materials absorb the infrared radiation differently depending on the wavelength of the radiation itself. Absorption, therefore, allows us to see before what kind of substance we find ourselves. The sample warms up, expands and generates a pressure wave that, if the power of the laser is modulated, can be heard as sound through a microphone, analysing a matter without its molecules being altered in any way and allowing you to capture the results immediately.
The analysed materials can appear in any physical, solid, liquid or gaseous state.
Will the machinery be on the market at what cost?
Within two or three years, we will be able to offer a prototype to interested companies. Companies will already have a preliminary study ready and may decide to produce the equipment, further engineer it and market it. The equipment will cost a few tens of thousands of euros but will allow a considerable saving, compared to the old method of control, being able to analyse many samples in a short time without the use of reagents.
At present, instruments with these characteristics do not exist on the market: the anti-fraud controls are complex laboratory analysis that requires a long time, expensive equipment and specialized personnel with the consequent increase in risks for consumers. Sometimes, as we know, unfortunately, there have also been cases of deaths. With our project, we hope to reach fast, reliable and simple quality controls.
What were the food adulterations detected to date?
So far, ENEA has tested its "anti-fraud technology" on products such as fish and fruit juices. In the first case, the laser has allowed identifying the presence of histamine, a toxic molecule that is formed when the fish is old or not stored well (in 2013 it caused thousands of poisonings throughout Europe). In fruit juices and light drinks, the hi-tech system has been able to detect five sweets (fructose, glucose, maltose, aspartame and sucrose) not declared on the label. Also in powdered milk, it has been possible to detect the presence of melamine, a substance used to make the plastic, but capable of simulating the protein content causing serious kidney damage.
However, we can list many examples of parameters subject to continuous control by optical methods: pathogen infections in citrus fruits, the presence of urea in milk and dairy products, the presence of low-cost vegetable oils in extra virgin olive oil, a fraction of methanol, sulphites, ethylene glycol present in wine and others.
Could the breakthrough panic many food retailers?
On the contrary, the food industries, the agro-food companies have shown considerable interest in their purchase to check first their products and thus have a further and quick way to certify their quality.
Is there a smartphone application?
The team of ENEA researchers is experimenting further with the idea of creating later miniaturized systems and smartphone apps that allow the screening of the food you are about to purchase in just a few seconds.
Once, people understood the quality of food by our senses. Today we need to point at him a laser beam. As a man and not as a scientist, how does this new reality live?
It seems to me a step forward. The laser can perceive what our senses cannot even remotely discover.