Our events
Impactscool's upcoming events
22 June 2018 | Written by La redazione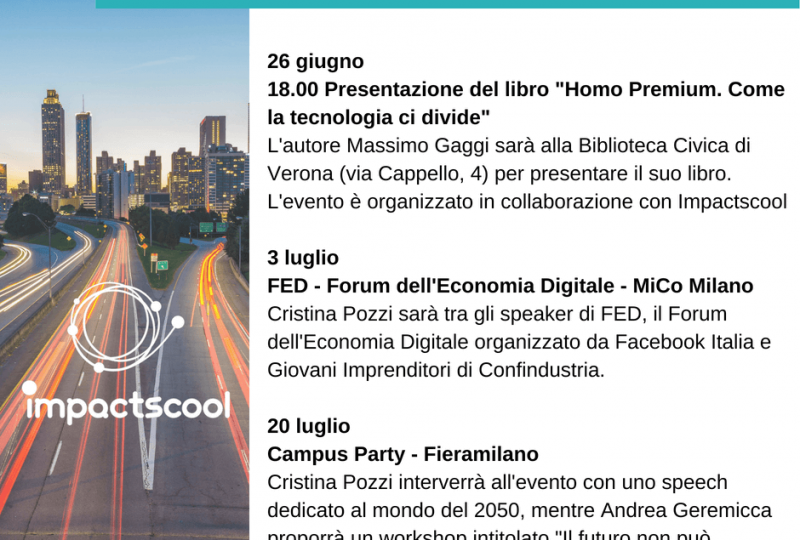 In the next few weeks Impactscool's team will be involved in several events all across Italy and beyond. Find out where you can find us.
The hidden dangers of the greatest anthropological revolution ever experienced by humanity, the one brought into being by the exponential and apparently unstoppable diffusion of technologies, are well documented. If someone already feared an invasion of robots inside the factories, now it's time to face the possibility that artificial intelligence can imitate the intellectual work, robbing of their careers analysts, travel agents, lawyers and journalists. With all the risks of the case: first of all, a growing social inequality, which will increasingly widen the gap between an élite that becomes ever richer thanks to the excessive use of technologies, and the masses that live precariously and are exploited by the same technologies.
Massimo Gaggi, writer and correspondent for Corriere della Sera in the United States, tackles the subject with courage, and without getting caught up in technophobia, in his book "Homo Premium. How technology divides us". The outcome, for Gaggi, will be the birth of a new social figure, the "homo premium" from the book's title, which technology made a demigod, but it's incapable of inclusion toward the most disadvantaged social groups.
The author will present his book on Tuesday, June 26, at 6:00 pm, at the Verona Civic Library: the event, organized in collaboration with Impactscool, will also be a moment of debate on the impact of technologies on our present and future lives.
The same impact that will definitely involve businesses' future: this will be the main theme of the second edition of FED, the Digital Economy Forum, organized by Facebook Italy and Confindustria's Young Entrepreneurs. On July 3, the MiCo of Milan will host managers, entrepreneurs, people from the world of innovation who have chosen the digital path as a winning strategy for their businesses. An entire day of talks, conferences, workshops attended by representatives of institutions and associations, experts, academics and reality among the most advanced in the digital scenario. Cristina Pozzi, Impactscool's CEO, will also be present and will explain to the FED audience what to expect from our tomorrow.
Cristina will also take part in the next Campus Party, on July 20: the international event that brings together thousands of young fans of future and innovation will take place in Milan, July 18 to 22. Next to Cristina, who will speak about the challenges we will have to face in 2050, there will also be Andrea Geremicca, Impactscool's Co-Founder, who will held a workshop entitled "The future can't wait".