Virtual and Augmented Reality
Augmented reality is not a game
14 November 2019 | Written by Thomas Ducato
We talked about the challenges and future prospects of this technology with Antonio Laudazi, CEO and Co-founder of Marte5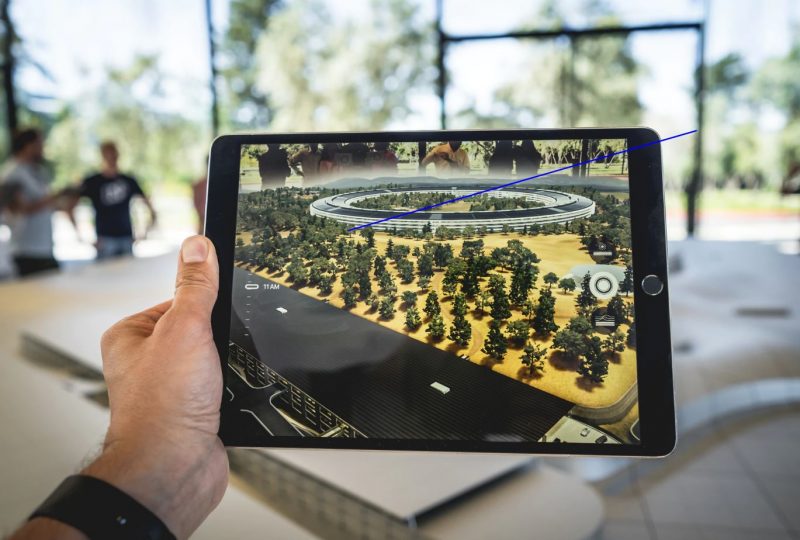 From science fiction to gaming, to applications for companies and users in everyday life. Augmented reality is a rapidly growing technology that promises great things for the future. An enabling tool, which offers new opportunities and opens up interesting perspectives. At the same time, however, it still needs to be understood by everyone and requires specific and dedicated rules.
Working with AR. you don't need a scientific background to work with AR. An example is Antonio Laudazi: humanistic and passionate education in culture and journalism (he is a Contributor of Impactscool Magazine), Antonio in 2012 co-founded Marte5, one of the first agencies specialized in immersive technologies and in particular in augmented reality.
His book "Nothing will be the same as before" has come out, for Dario Flaccovio publisher, in which he talks about these technologies with a holistic approach, offering different points of view, and with a language that is not only addressed to specialists but to different target.
We talked with him about augmented reality, its evolution and future prospects.
How did you go from a journalistic activity to Mars5? Why did you decide to invest in augmented reality?
Even though I studied and worked as an editor and journalist, I have always worked on innovation. One day a person very close to me, later to become co-founder of Marte5, told me about augmented reality, a technology that was at the time semi-unknown. We felt it could be something that could radically change the digital world and we decided to develop our business idea: an innovative startup, which over the years has also started working with virtual reality. Our world is that of interaction and design applied to these new technologies, which are based on a principle that is as simple as it is fascinating: the possibility of making things appear that do not exist.
Would you like to learn more about this concept?
We are colonizing more parallel dimensions, which we can create and of which we can write the rules we want. I think this is their charm.
Instead, how is it perceived by other people? Has anything changed in the last few years in this regard?
Perception is changing, particularly in the corporate sector. As for consumers, immersive ones have almost become mass-market technologies: virtual reality viewers are now everywhere. With augmented reality, we are slightly behind, but I think it's only a matter of time, a year or two. Compared to VR, the AR has more facets and a smaller background from the science-fiction, literary and cinematographic point of view: virtual reality is the protagonist of many books and films and this has facilitated understanding and diffusion.
What are the areas in which augmented reality seems to offer more possibilities?
First of all, I like to point out that this technology has proved to be very versatile right away: it does not solve a specific or particular problem, but in its development it risks becoming disruptive in some sectors, a tool with great enabling power.
The medical, industrial, sports and retail areas offer excellent examples of research and projects already implemented, which achieve increasingly positive and effective results: it offers increasingly more concrete opportunities.
So it's no longer "just a game"?
In the public opinion, these tools are still seen a bit like a game but the evolution is very rapid, probably 6 months ago I would have answered in a much clearer way to this question. In general, there is a distinction to be made between corporate and managerial culture, with dedicated departments of companies, and the final consumer. For the latter, VR and AR are still mainly geared to the game, which in any case is a rich sector and allowed these technologies to enter the users' vocabulary.
We can say that it is a moment of transition, in which the world of gaming is a driving force but in which we begin to wonder if these technologies can affect and as in many other sectors. The important thing is that users perceive concreteness and we have a clear idea of ​​their possible use.
One of the elements that contribute to the spread of technology is that of costs. In this respect, where are we now?
The costs have dropped dramatically and to develop a project, if well designed, a company no longer has to make economic sacrifices. It has become a technology for everyone, starting with very affordable costs.
Earlier we mentioned cinema and literature. Has the narration of these technologies influenced their development? If so, how?
The narration on the one hand has allowed us to develop greater familiarity with technology, but on the other hand, it has created very high expectations and a bit of confusion between science fiction and real opportunities. I still believe that this narrative helped, also because it also represents a stimulus and a guide for innovators: the imaginative power of directors and authors is not so different from that of engineers and developers. There is a machine in a scene from "Il tagliaerbe" (1992 film directed by Brett Leonard and starring Jeff Fahey and Pierce Brosnan, ed) that was actually created. I do not think it was "copied", rather than inspired. This still happens today, not only about immersive technologies but also for others. I think it's good.
Speaking of storytelling, you have a humanistic background. For those who want to work with this technology, which knowledge and skills do you consider most important?
The ability to understand different languages ​​in multidisciplinary teams: In our team, there are 3D graphic designers, IT developers, marketing and communication experts, ideation and concept design, project managers, responsible for customer relations. The customer approaches us with a suggestion, not with a precise idea: it is up to us to write and carry out the project and in this process, the dialogue between the different components of the team is fundamental. We need flexibility, curiosity, willingness to study the subjects of others, a desire to understand. To all this I believe it is necessary to associate continuous training.
What are the potential risks and things to take action on?
I believe it is necessary to claim virtual space, which is not material but part of our reality. We initially encountered the same problem with social network. With augmented reality, something similar might happen.
From the social point of view, instead, which impacts do you see?
I also hope for a social and educational value for these technologies: in particular, I hope they become a means of offering new experiences to users, which can favour the development of empathy and awareness of the other. For example, users can be put in the shoes of someone else: not just people, but also objects and animals, in various situations and from new points of view. This could increase our awareness and change the way we see things. This contact with the world through technology, if well designed and conducted, could impact school and education, changing the way we learn and store information.