City and Transportation
Cities are changing thanks to data: towards data-driven mobility
18 November 2019 | Written by Thomas Ducato
Smart cities rely on our ability to collect and analyze data. We examine this theme with Dario Mancini, Regional Manager Italy & EMEA Emerging Markets at Waze, the well-known road navigation app, which has recently launched Waze for Cities with Google Cloud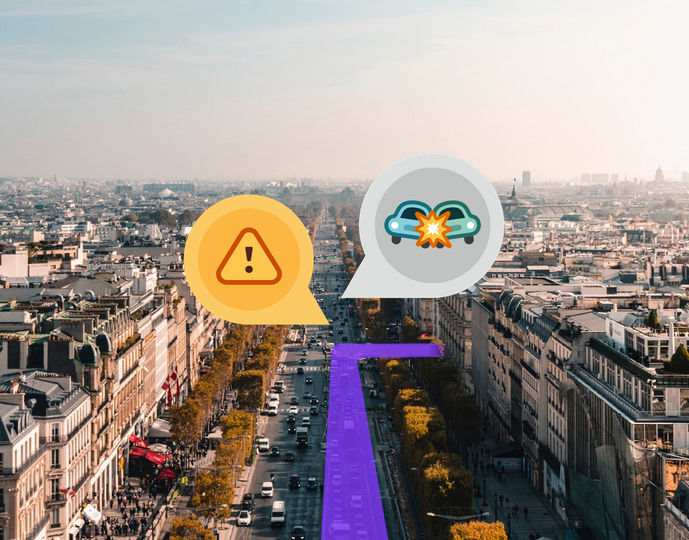 We increasingly hear about smart cities – the cities of the future where everything will be technological and connected. Alongside this term – which is perhaps a little overused – is a world of not only innovation, but also of infrastructure, economic strategy, social policy and citizens. These are the real protagonists of the mobility revolution, and the main stakeholders in the dynamic creation of cities.
This is all, however, made possible by another component: data. Information, if correctly analyzed and interpreted, is the key to managing the cities of tomorrow.
This is demonstrated by Waze, the well-known road navigation app, which recently launched Waze for Cities Data with Google Cloud, a tool that can facilitate the analysis and use of data collected by the cities.
Waze for Cities provides more than 1,000 global partners with easy access to traffic data, and for the first time, gives them the ability to review and analyze transport patterns and create reports using Google Cloud tools. With access to city data offered by the app, Waze for Cities partners will be able to easily make decisions on city planning in an informed, data-driven way.
We talked about Waze for Cities Data and Google Cloud, and Waze's vision for mobility with Dario Mancini, Waze Regional Manager Italy & EMEA Emerging Markets.
Let's start with the news: Waze for Cities and Google Cloud. A program launched in 2014, although with another name, and which today boasts a thousand global partners. Would you like to tell us more?
The project, as mentioned, comes from a program that has been active for many years: the Waze Connected Citizens Program (CCP). CCP allowed an exchange of data between Waze and partner organizations – typically municipalities or transportation authoritiesWe provided our partners with this data free of charge, and they shared back information to help improve our product. In the past years this program grew to incorporate a significant number of organizations and bodies of some of the biggest cities in the world. This new community allowed for the sharing of best practices and the resolution of problems related to mobility. This is an approach that best reflects the choice made by Waze many years ago: to utilize its huge database to grow the ecosystem and help address the issue of traffic.
What changes with Google Cloud?
With the integration with Google Cloud our aims and approach to traffic not changed.  Rather, we're now able to enhance this strategy through a new tool that allows our partners to better manage, store and analyze the data we share with them.
So the data serving the city and the citizens?
Exactly. Today we often hear the term "smart" city, but it's very broad and doesn't often illustrate what's actually taking place. Through Waze for Cities and Google Cloud, our goal is to be able to obtain and utilize an increasing amount of data to improve the cities' mobility. This could include the closing of a road, the improvement of infrastructure or intervention on a critical junction in a small, congested town.
Waze for Cities is based on free, collaborative and two-way data exchange. Perfectly in line with the idea behind Waze, which founded its success on the concept of sharing. Waze users are not "simple users" of services but are part of a Community. What is the added value of this approach?
Our relationship with users, as well as that with companies and partners, has been strengthened over time. We have tried since the beginning to create a real ecosystem for mobility, and we have been rewarded. There are people who have independently created maps of neighborhoods, of cities and eventually of entire nations. When we expanded the ecosystem to include city organizations and institutions,, we offered them the opportunity to use our tools to integrate more information and use it to monitor and improve traffic and road conditions. This has strengthened the overall ecosystem, which now also offers users updates on unexpected events, city initiatives and interventions. For example, we were partners of the Formula E race in Rome: information on the roads was entered directly into the platform and our users were able to enjoy updated information and avoid getting stuck in traffic in the surrounding areas.
How did you manage to build and cultivate the community?
We have a huge benefit of our community being both local, but having the potential to reach an international scope. Having a local approach allows us to involve users in projects that concern them closely, and for which they can offer a concrete contribution. For example, the Italian volunteer map editor community recently added toll zones and prices to the Waze map, allowing users to receive information on costs of a given journey. In other instances, the community has performed a role that could be defined as a social duty: during the recent extreme weather that impacted areas of the peninsula, the editors updated the Waze maps with information on landslides and floods which helped keep drivers out of harm's way.
Overall, though, people like to feel part of something that has an impact on other people in a positive way. Being the protagonist that helps others is a significant reason why people dedicate part of their time for free to the Waze community.
Your philosophy of "sharing" has also translated into a series of additional services, such as car pooling. Is the objective, in addition to improving traffic, also to promote a more sustainable approach to mobility?
Waze was born with the aim of saving people time and offering intelligent technology to distribute cars more evenly on existing infrastructure. Alongside this, however, another goal has been added: to actually reduce traffic as much as possible. The existing infrastructure system is saturated, and the only way to reduce it is to put more people in the same car and take vehicles off the road. Thus the Waze Carpool service was born, which is linked both to the theme of mobility and of culture. We try to raise users' awareness on the issue of traffic, but also on environmental issues, while encouraging companies and different organizations to convey this message of cultural revolution in the world of mobility.
Since you were born much has changed from a technological point of view. What do you imagine for the near future?
We don't know exactly what the future of mobility looks like, but we're seeing indications in certain trends such as mobility as a service, self-driving cars, and the electricity market. It's not clear where this revolution will take us and how long it will take: Carpool is a solution for the present and that's where we're focusing our efforts as a company.
On a personal level I believe that 5G will be revolutionary, and will mark a considerable leap in the way we're able to connect with each other. Self-driving cars could lead to another paradigm shift and make driving – as we know it today – obsolete. On the theme of sharing and mobility as a service more broadly, the real challenge of the future will be to understand if this is economically sustainable.